AMSA Reproductive Health Project
AMSA believes reproductive health services are essential to comprehensive health care and we support full access to the entire range of reproductive services. We believe all women have the right to legal, safe, voluntary abortions and that both UME (medical school) and GME (residency – especially family medicine and obstetrics/gynecology) programs should offer abortion education and training.
The AMSA Reproductive Health Project will work with AMSA members, chapters, alumni, and allies to advance these beliefs and ensure a diverse physician workforce that includes highly skilled, culturally competent physicians prepared to provide abortion services to all the women who need them, in whatever setting they work in.
During 2019-2020 AMSA will support a number of clinical skills, advocacy training, issue education, and local action opportunities. Scholarships for research poster presentations are available, as well as grants for AMSA Chapters to support local activities and educational opportunities. Learn more below or email rhf@amsa.org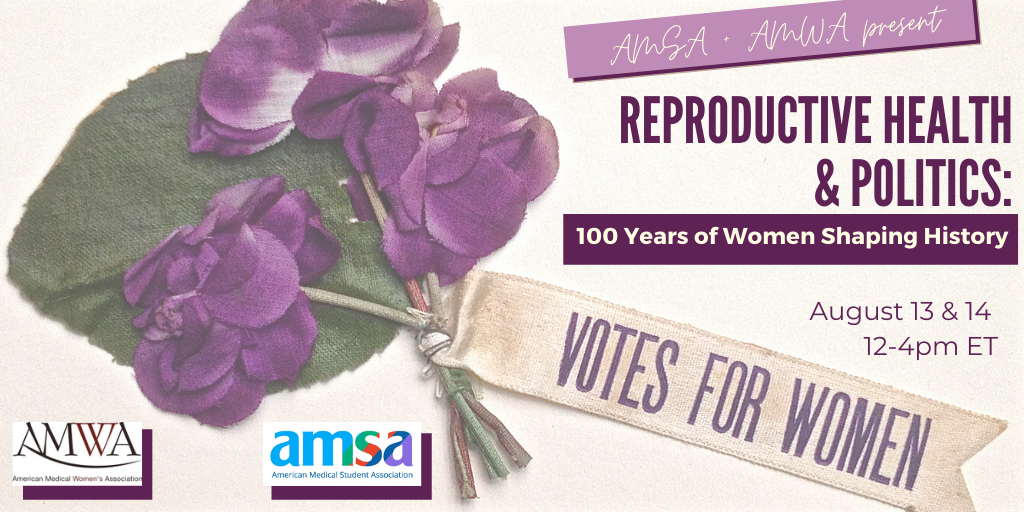 Reproductive Health & Politics:
100 Years of Women Shaping History 
A special virtual event sponsored by the American Medical Student Association
and the American Medical Women's Association
Dynamic Speakers – Skill-building Breakout Sessions – Virtual Congressional Visits
Join us online August 13 &14 from 12:00 – 4:00pmET
Full scholarships are available to AMSA & AMWA members – Apply & Register Today!
Deadline to Register –  August 10, 2020
Join AMSA and AMWA in a celebration of 100 years of women's suffrage! The movement for reproductive rights has come so far in the last century – though we still have work to do. Hear from our incredible speakers, including the founder of the Black Women's Health Imperative, the founding chair of Physicians for Reproductive Health, and one of our US House Representatives. Learn how to be an advocate in your own spaces – and contribute to moving reproductive health forward in just and equitable ways.
Speakers include:
Wendy Chavkin, MD, MPH, Physicians for Reproductive Health, Founding Board Member
Byllye Avery, Black Women's Health Imperative, Founder
and Linda Goler Blount, MPH, Black Women's Health Imperative, President & CEO
Nicole Sandhu, MD, PhD, American Medical Women's Association, President
U.S. House Representative Jan Schakowsky (IL-9), Senior Chief Deputy Whip and C
hair of the Energy and Commerce Consumer Protection and Commerce Subcommittee
And more…
Educational Opportunities
AMSA Chapter Local Action Grants
These grants will support AMSA chapters to offer issue education, advocacy, and communication skill-building sessions, including effective engagement with the media and policymakers to foster relationships and build support for abortion services.
Lunch & Learn Meeting Session
Twelve – $500 mini-grants available to AMSA Chapters
APPLY HERE – Rolling Applications (selection merit based) 
AMSA has a rich history with medical school scorecards. In 2007, AMSA launched the first PharmFree Scorecard to assess medical schools' policies on conflicts of interest. This scorecard gained nationwide traction and brought awareness to the influence pharmaceutical and medical device industries have on medical trainees.
The AMSA Reproductive Health Scorecard will access and score U.S. medical schools on the presence or lack of training on reproductive health and abortion skills; including lectures, clinical skills, and elective rotations or externships offered for students wishing to pursue obstetrics and family medicine specialties. Our goal is to see this scorecard serve as a guide for medical schools to ensure trainees more experience in abortion and reproductive health. The Scorecard will emphasize that abortion is part of women's health care and that medical schools should provide full-spectrum women's health, obstetrical, and gynecological training.  For more information email arunyan@amsa.org.
Lift Your Voice
Call Congress 202/224-3121