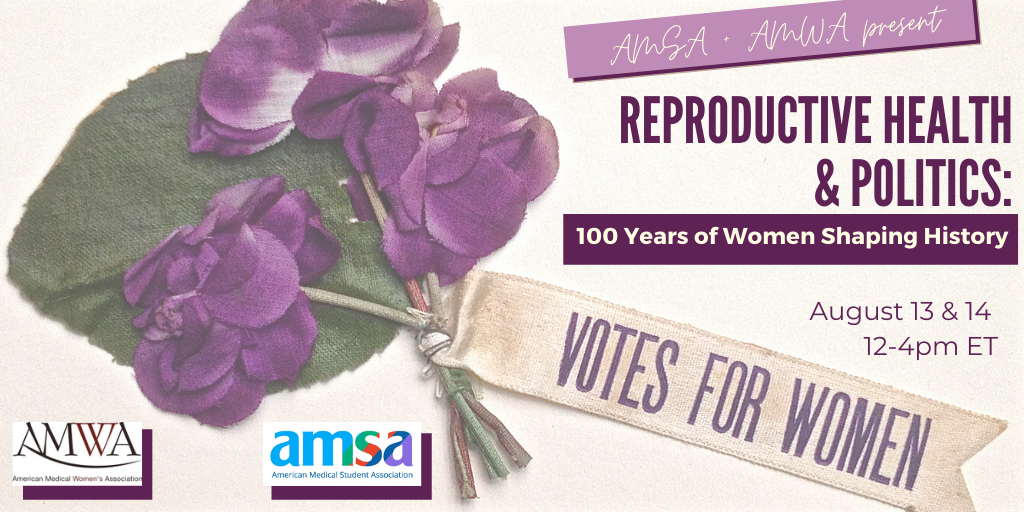 Reproductive Health & Politics: 100 Years of Women Shaping History 
A special virtual event sponsored by the American Medical Student Association
and the American Medical Women's Association
Dynamic Speakers – Skill-building Breakout Sessions – Virtual Congressional Visits
Join us online August 13 &14 from 12:00 – 4:00pmET
Full scholarships are available to AMSA & AMWA members – Apply & Register Today!
Deadline to Register – August 10, 2020
Join AMSA and AMWA in a celebration of 100 years of women's suffrage! The movement for reproductive rights has come so far in the last century – though we still have work to do. Hear from our incredible speakers, including the founder of the Black Women's Health Imperative, the founding chair of Physicians for Reproductive Health, and one of our US House Representatives. Learn how to be an advocate in your own spaces – and contribute to moving reproductive health forward in just and equitable ways.
Speakers include:
Wendy Chavkin, MD, MPH, Physicians for Reproductive Health, Founding Board Member, and Co-founder of Global Doctors for Choice
Byllye Avery, Black Women's Health Imperative, Founder
and Linda Goler Blount, MPH, Black Women's Health Imperative, President & CEO
Nicole Sandhu, MD, PhD, American Medical Women's Association, President
U.S. House Representative Jan Schakowsky (IL-9), Senior Chief Deputy Whip and Chair of the Energy and Commerce Consumer Protection and Commerce Subcommittee
And more…